TLC Disability Services & CareVision Forge Partnership for Enhanced Participant Care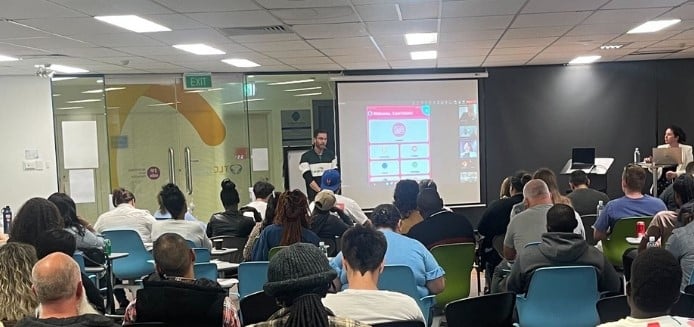 BANKSTOWN, NSW — Tender Loving Care Disability Services, a distinguished NDIS-registered provider with an enduring legacy spanning over five decades in the disability sector, proudly announces an exciting collaboration with CareVision, a pioneer in cutting-edge care management solutions. Together, we embark on a transformative journey to revolutionise how participant care is delivered.
Empowering Care Teams & Participants: A Milestone Professional Development Session
On the 22nd of August, CareVision hosted a Professional Development Night at TLC's Brisbane office, announcing a significant milestone. At the heart of this event was Damian Cox, TLC's National Operations and Service Delivery Manager. Damian led an enlightening session introducing our dedicated care teams to the powerful capabilities of the CareVision app.
"This partnership with CareVision represents a significant leap forward in our commitment to providing the highest quality care for our participants," Damian stated. The session was characterised by enthusiasm, demonstrating our unwavering commitment to elevating the quality of life for our participants.
A Legacy of Excellence: TLC Disability Services' Commitment to Quality Care
With offices strategically located nationwide in Sydney, Melbourne, Werribee, and Brisbane, TLC has always been synonymous with a steadfast dedication to enhancing the well-being of our participants. Integrating the CareVision app signals a new era, empowering our participants to access and manage their care services seamlessly.
"The app enables TLC's participants to take an active role in their care, giving them a sense of control and independence," notes Irene Ryan, Chief Executive Officer of CareVision.
This includes viewing their care plans, schedules, invoices, and feedback forms – an innovation in participant-centred care that transcends geographical boundaries. Real-time communication facilitated through the app further strengthens the connection between participants and their dedicated support network.
Revolutionising Service Delivery: Streamlined Operations and Enhanced Efficiency
Integrating CareVision into our operational framework marks a watershed moment in delivering care. From initial customer contact to quoting, contracting, risk management, and participant assessments, the app improves TLC's service efficiency.
"This technological integration is not only a time-saver but a game-changer in how we manage and deliver our services to our participants," emphasises Damian.
This transformation is set to optimise time management and enhance our risk management protocols significantly. Notably, integrating with HICAPS Proda and streamlining billing processes provide us with unparalleled financial confidence and transparency, ultimately benefiting our participants.
A Collaborative Future: TLC Disability Services and CareVision Pioneering Change
TLC Disability Services is honoured to stand shoulder-to-shoulder with CareVision in this endeavour. Together, we are poised not only to meet but exceed the expectations of the disability sector, setting a new standard for participant-centred care.
"This partnership is a testament to the commitment of both TLC Disability Services and CareVision in pushing the boundaries of care provision," concludes Damian.
For further information about our services and this exciting partnership, please visit services page or call us at 1300 998 885.