The National Disability Insurance Scheme (NDIS) is a transformative system designed to empower people with disabilities. NDIS gives individuals more choice and control over support services, promoting inclusion and independence within their communities.
A key component of NDIS is support coordination, which acts as a guiding hand for participants. Support coordination helps individuals navigate the NDIS landscape, connecting them with appropriate services and resources to achieve their goals and enhance their well-being.
This article delves into what participants can expect from support coordination, shedding light on how it facilitates tailored plans, connects with service providers, and aids in budget management and adaptation to evolving needs. By understanding this role, NDIS participants can harness the true potential of their NDIS journey.
What Does a Support Coordinator Do?
A support coordinator plays a pivotal role in assisting NDIS participants in navigating the complexities of the scheme and turning their goals into reality. Think of them as your guide through the NDIS journey. They work closely with you to understand your needs, preferences, and aspirations.
Support coordinators help you make sense of your NDIS plan, translating it into practical steps. They aid in identifying the right service providers that align with your unique requirements and facilitate connections. Their support extends to helping you manage your budget effectively, ensuring you get the most out of your allocated funds. Throughout the process, they provide ongoing guidance, ensuring you are informed and empowered to make informed decisions about your care.
How Does a Support Coordinator Differ from a Plan Manager?
Within the NDIS framework, Support Coordinators and Plan Managers are crucial players, each contributing unique expertise. This section highlights their distinct roles, clarifying how Support Coordinators guide participants through services while Plan Managers handle financial aspects.
| Aspect | Support Coordinator | Plan Manager |
| --- | --- | --- |
| Role | Guide and advocate for NDIS participants. | Focuses on financial aspects and payment processing. |
| NDIS Plan | Assists in implementing the NDIS plan and achieving goals. | Manages NDIS budget, processes payments, and handles bills. |
| Service Connections | Connects participants with suitable service providers. | Handles payment processing for services. |
| Decision Making | Provides support in decision-making about services. | Does not typically provide decision-making guidance. |
| Ongoing Assistance | Offers ongoing guidance and adjustments to the plan. | Primarily handles financial logistics. |
How Does a Support Coordinator Differ from a Local Area Coordinator?
In the realm of NDIS assistance, Support Coordinators and Local Area Coordinators have vital yet distinct roles. This section highlights the differences, showcasing how Support Coordinators provide tailored guidance while Local Area Coordinators aid initial planning and service connections.
| Aspect | Support Coordinator | Local Area Coordinator |
| --- | --- | --- |
| Role | Personal guide for NDIS journey, aids in plan execution. | Assesses eligibility, develops an initial plan, and links it to services. |
| NDIS Planning | Assists in planning and implementing NDIS services. | Assists with initial plan development and coordination. |
| Ongoing Support | Offers ongoing support throughout the NDIS journey. | Limited ongoing support and focuses on initial plan development. |
| Service Navigation | Helps connect with appropriate service providers. | Focuses on linking to mainstream services in the community. |
| Direct Assistance | Provides hands-on assistance in plan implementation. | Offers indirect assistance and service linkage. |
How Can a Support Coordinator Help w/ your NDIS Plan
A support coordinator is your ally in maximising the benefits of your NDIS plan. They collaborate with you to create a plan that aligns with your aspirations and needs. This involves setting clear goals and selecting the most suitable services and supports. They assist in connecting with service providers, ensuring you're matched with those that best cater to your requirements.
Additionally, a support coordinator helps you manage the financial aspects of your plan, ensuring your budget is utilised effectively and responsibly. They're there to troubleshoot any issues, adjust as needed, and keep you informed every step of the way.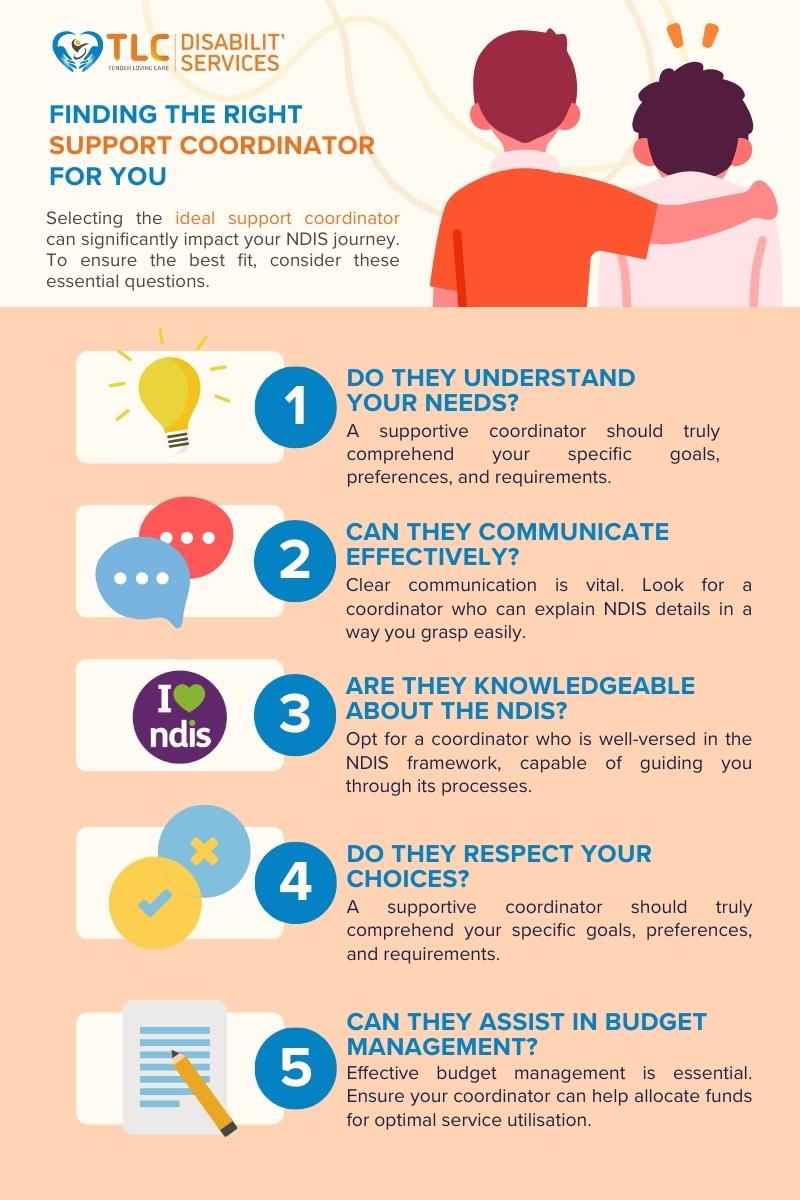 Finding the Right Support Coordinator for You
Selecting the ideal support coordinator can significantly impact your NDIS journey. To ensure the best fit, consider these essential questions:
Do They Understand Your Needs?
A supportive coordinator should truly comprehend your specific goals, preferences, and requirements.
Can They Communicate Effectively?
Clear communication is vital. Look for a coordinator who can explain NDIS details in a way you grasp easily.
Are They Knowledgeable About the NDIS?
Opt for a coordinator who is well-versed in the NDIS framework, capable of guiding you through its processes.
Do They Respect Your Choices?
Your chosen coordinator should prioritise your decisions and actively involve you in crafting your support plan.
Can They Assist in Budget Management?
Effective budget management is essential. Ensure your coordinator can help allocate funds for optimal service utilisation.
These fundamental questions can guide you toward a support coordinator who aligns with your needs and can empower you throughout your NDIS journey.
As you embark on your NDIS journey, support coordination becomes your guiding light. The NDIS offers possibilities, and support coordinators ensure you navigate it successfully. By grasping the roles of different coordinators and asking the right questions, you empower yourself to make informed decisions. With their expertise, you can transform your NDIS plan into tangible achievements, unlocking a path of choice, growth, and fulfillment.