Support coordination's role in the disability services sector is crucial, providing vital assistance to individuals with disabilities. This article explores the seven duties and responsibilities of support coordinators and their importance in facilitating better quality of life for participants.
NDIS and Support Coordination
The National Disability Insurance Scheme (NDIS) and support coordination share a close relationship. Support coordinators help individuals navigate the NDIS system, ensuring they receive the necessary support and services. It is essential to clarify the funding arrangements for support coordination services to better understand their availability.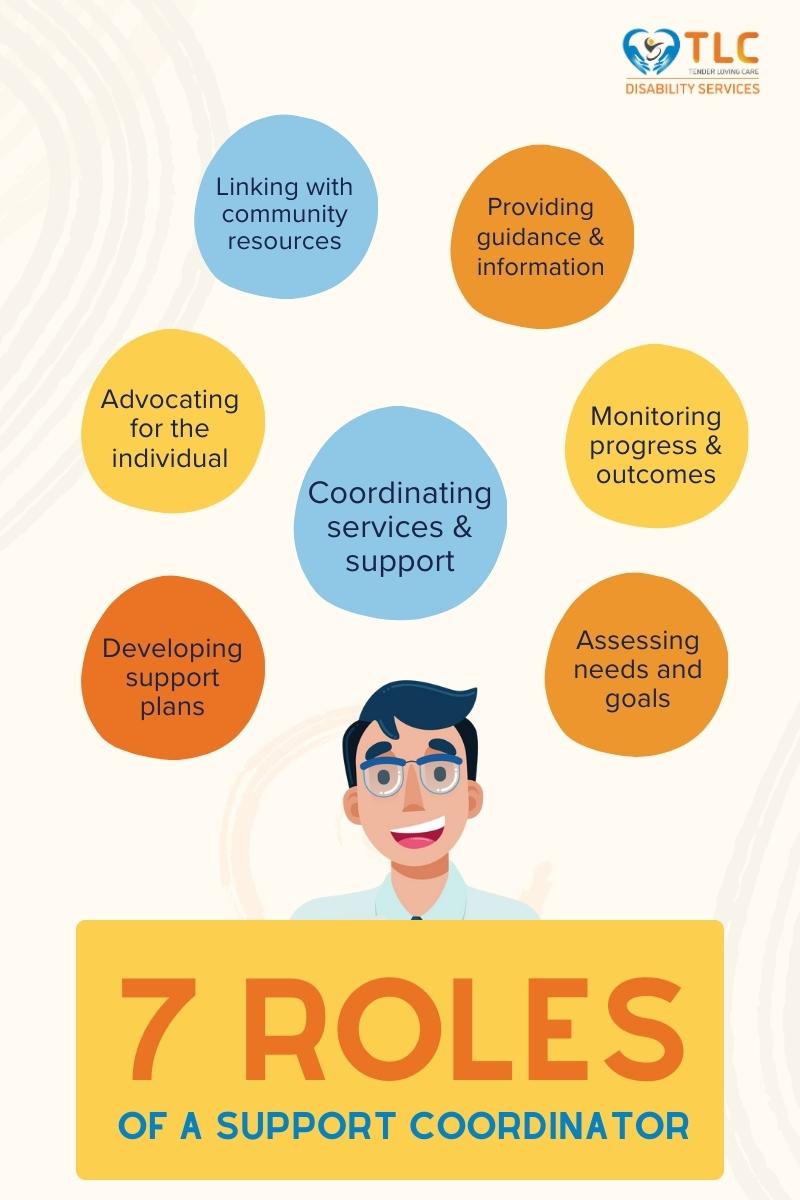 The Role of a Support Coordinator to its Participants
Support coordinators undertake various responsibilities to assist participants in achieving their goals and accessing essential services. The key duties of a support coordinator include:
Assessing needs and goals: Support coordinators work closely with participants to understand their unique needs and aspirations, ensuring personalised support plans.
Developing support plans: They collaboratively develop comprehensive support plans that outline the necessary services, supports, and strategies to achieve the participant's goals.
Coordinating services and support: Support coordinators facilitate the arrangement of various services, connecting participants with providers, managing schedules, and ensuring effective communication between all parties.
Monitoring progress and outcomes: They regularly review participants' progress towards their goals, ensuring that services and supports align with their needs and desired outcomes.
Advocating for the individual: Support coordinators are advocates for participants, ensuring their rights, preferences, and choices are respected within the disability services system.
Linking with community resources: They help participants access community resources, such as social activities, educational programs, employment opportunities, and healthcare services, fostering their integration and independence.
Providing guidance and information: Support coordinators offer guidance and valuable information to participants and their families, empowering them to make informed decisions about their support options.
Skills & Qualities of an Effective Support Coordinator
To fulfil their duties effectively, support coordinators should possess the following skills and qualities:
Strong communication and interpersonal skills: They should be adept at building rapport, actively listening, and effectively communicating with participants, families, and service providers.
Knowledge of disability services and support systems: Support coordinators need a deep understanding of the disability services landscape, including available support, funding options, and relevant policies.
Ability to build rapport and trust: Building a trusting relationship with participants and their families is crucial for effective support coordination.
Problem-solving and decision-making abilities: Support coordinators should be skilled in identifying challenges, finding solutions, and making informed decisions that align with participants' best interests.
Cultural sensitivity and inclusivity: They should demonstrate cultural sensitivity, respecting participants' diverse backgrounds and identities, and ensuring inclusivity in all aspects of support provision.

Empowering Individuals with Disabilities
Support coordinators are integral to the disability services sector, providing invaluable assistance to individuals with disabilities and their families. Through their dedication, advocacy, and expertise, they play a pivotal role in enhancing the quality of life for participants.
Tender Loving Care Disability Services (TLC) is an organisation that exemplifies the commitment and passion of support coordinators in delivering exceptional support to individuals with disabilities. With TLC's unwavering support, participants can experience a personalised and comprehensive approach to their goals and aspirations.
By embracing the duties and responsibilities outlined in this article, support coordinators, including those at TLC, empower individuals with disabilities to embark on a transformative journey towards independence, inclusion, and a brighter future.