Support coordination plays a vital role in empowering individuals with disabilities. It helps them navigate the complex landscape of services and supports available.
In this guide, we will delve into the fundamental aspects of support coordination, its significance for individuals with disabilities, and how it can improve their lives. By the end, you'll clearly understand support coordination and its potential impact on accessing the right services and achieving your goals.
Understanding Support Coordination
Support coordination serves as a guiding hand for individuals with disabilities, aiding in navigating the support system. Its role is to facilitate access to services and ensure that individuals receive the appropriate support they require.
By actively working with individuals, support coordinators aim to promote choice, control, and independence in their lives. This collaborative approach fosters a sense of empowerment and encourages individuals to achieve their full potential.
Exploring the Process of Support Coordination
The process of support coordination begins with a comprehensive assessment to understand an individual's unique needs, preferences, and goals. This assessment serves as the foundation for developing a personalised support plan. The support plan outlines the necessary services and supports required to address specific goals and improve overall well-being.
Support coordinators assist in identifying suitable service providers who can deliver the required support effectively. Additionally, regular review and adjustment of the support plan ensure that it remains aligned with the evolving needs and aspirations of the individual.
Responsibilities and Tasks of Support Coordinators
Support coordinators have various responsibilities to ensure the best possible outcomes for individuals with disabilities. Their tasks include:
Advocating for individuals with disabilities and ensuring their rights are protected.
Assisting in navigating the National Disability Insurance Scheme (NDIS) or relevant funding systems.
Monitoring progress and ensuring services are delivered with the agreed support plan.
Building capacity by providing individuals with the tools and knowledge to actively participate in their support journey.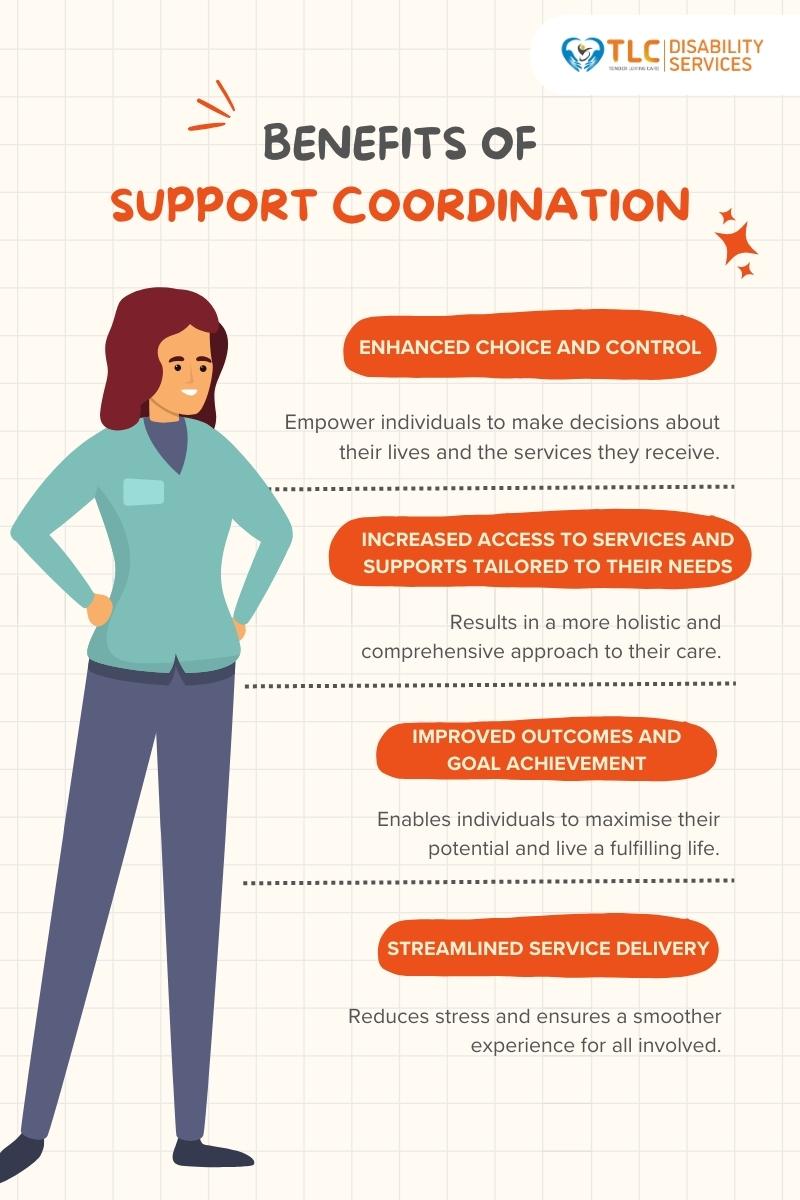 Benefits of Support Coordination
Support coordination brings numerous benefits to individuals with disabilities. Some key advantages include:
Enhanced choice and control - Empower individuals to make decisions about their lives and the services they receive.
Increased access to services and supports tailored to their needs - Results in a more holistic and comprehensive approach to their care.
Improved outcomes and goal achievement - Enables individuals to maximise their potential and live a fulfilling life.
Streamlined service delivery - Reduces stress and ensures a smoother experience for all involved.
By leveraging these benefits, support coordination plays a vital role in improving the lives of individuals with disabilities, promoting independence, and facilitating their journey towards a brighter future.
Finding the Right NDIS Provider for your Support Coordination Goals
Support coordination is a cornerstone of empowering individuals with disabilities and enhancing their quality of life. Understanding support coordination's role, process, responsibilities, and benefits means these individuals can make informed decisions about their support journey.
To embark on a successful support coordination journey, finding the right NDIS provider is crucial. Look for providers with a solid track record in delivering high-quality support coordination services. Consider their experience, expertise, and ability to align with your goals and aspirations. Engage in open communication, ask questions, and seek recommendations from other individuals who have experienced support coordination. Remember, the right NDIS provider can be an invaluable ally, assisting you in accessing the right services, advocating for your rights, and promoting your independence.
Embrace the potential impact of support coordination and take the first step toward a brighter future filled with choice, control, and achievement.